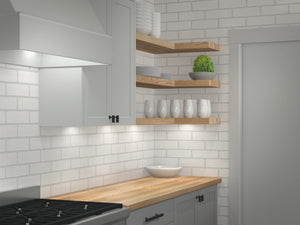 Our Crafted Red Oak surfaces are a classic hard wood with strong up-front grains and a warm reddish tinge. Red Oak has loose pores and accepts our finish treatment deep under its surface and will wear well in all applications. Red Oak is a classic look and fits well in both vintage and more contemporary designs.
Caribou Crafted surfaces are 1.75" thick with a 1/4" rounded edge profile. The 1.75" blocks that make up the surfaces run the entire slab length with opposite and opposing grain positioning and are uniform in width resulting in a seamless aesthetic and strong structure. Our surfaces are hand assembled with radio frequency gluing technology to ensure rapid fusion and superior adhesion. Crafted products are finished with End and Edge creating a beautiful matte sheen to allow for the woods natural beauty to take center stage. Caribou surfaces are made from tried and true, aged, and tested, sustainably harvested North American hardwoods.
Beautiful, handcrafted things take time to create, and Caribou is no exception. Please allow 3-4 weeks for fabrication and 1-2 weeks for shipping as all products are made to order. As Caribou is a natural product with unique characteristics, please review our Product Expectations document before you purchase.
Click here for more information on Caribou's Crafted Red Oak surfaces.